Product Description
Short Description:
Lilliput Q23 is a professional production studio monitor, packed with features and facilities for the professional photographer, videographer, or cinematographer. Compatible with a multitude of inputs – and featuring the option of a 12G SDI and 12G-SFP Fiber Optic input connection for broadcast quality monitoring, It also features Audio Vectoring using a Lissajous graph shape allowing you to visualize the depth and balance of a stereo recording. You also can connect your computer to control the monitor via applications.
Features:
- 23.8'', UHD 3840*2160 Resolution
- Support standard 12G-SDI input interface (x2), 3G-SDI input interface (x2), and support Single-Link, Dual-Link and Quad-Link signals.
- Support HDMI 2.0/1.4 inputs and loop outputs.
- Support SFP optical Connector input, optical module for optional.
- Loop output signals support up to 3840x2160 23.98/24/25/29.97/30/50/59.94/60p and 4096x2160 23.98/24/25/29.97/30/47.95/48/50/59.94/60p.
- Monitor control via LAN, GPI, RS422.
- Customized Menu Knob.
- Support customized various waveform mode: Waveform/Vector/Histogram/4 Bar Display/Audio Vector/Level Meter.
- HDR (High Dynamic Range) display supporting ST 2084 and Hybrid Log Gamma.
- Gamma selection: 1.8-2.8.
- Custom 3D LUT file load through USB.
- Wide color space supporting SMPTE-C, Rec709, EBU and Native.
- Color Space/ HDR/Gamma /Camera Log comparison with original (side by side).
- Color Temperature: 3200K/5500K/6500K/7500K/9300K/User.
- False Color: Default/Spectrum/ARRI/RED.
- Aspect Marker (16:9/1.85:1/2.35:1/4:3/2.0X/2.0X MAG/Grid/User).
- Aspect (Full/16:9/1.85:1/2.35:1/4:3/3:2/2.0X/2.0X MAG).
- Audio: supporting Audio Phase and Level Meter, HDMI supporting 8 channels, and SDI supporting 16 channels.
- TimeCode: LTC/VITC.
-UMD display:White/Red/Green/Blue/Yellow/Cyan/Magenta text color for optional.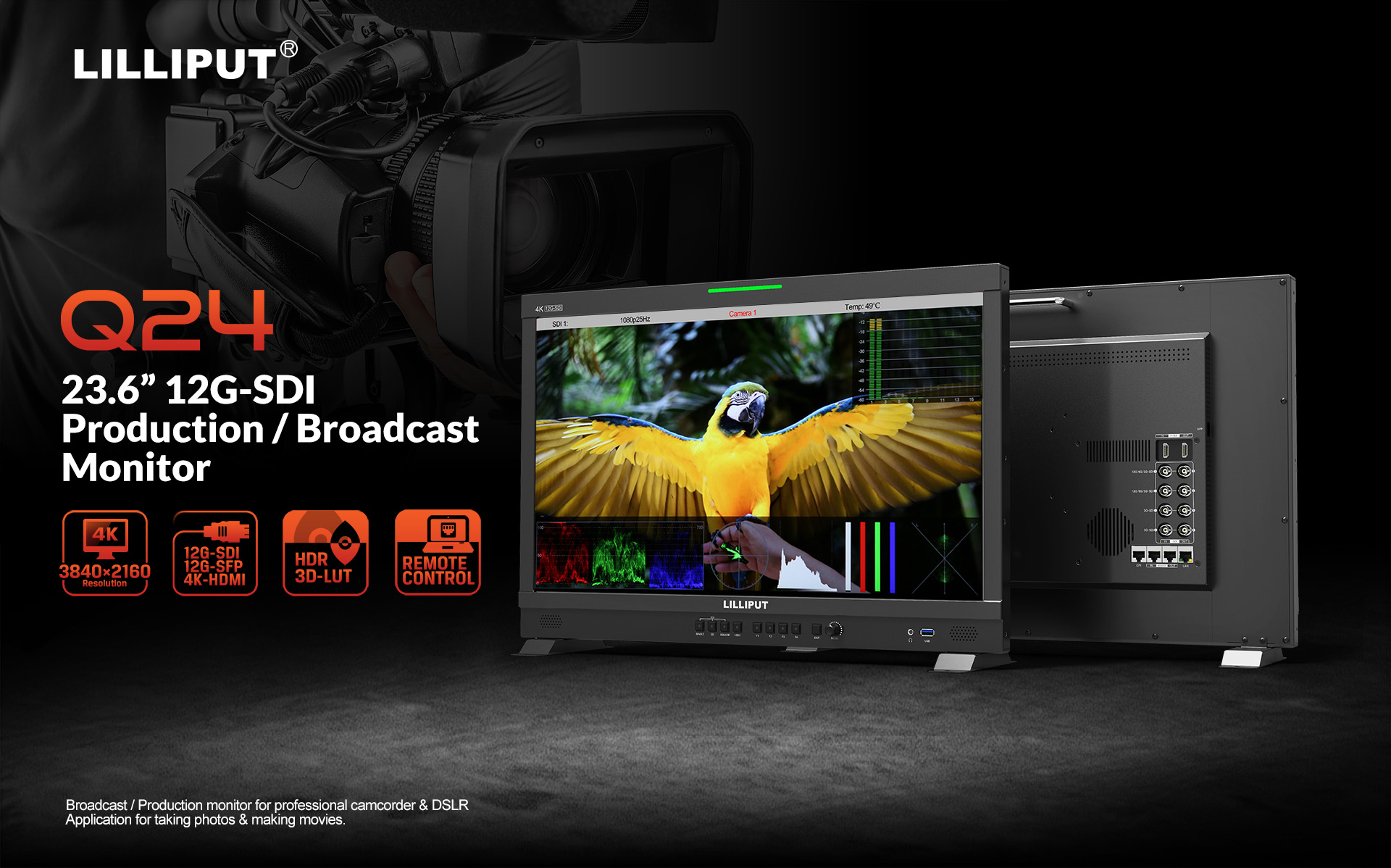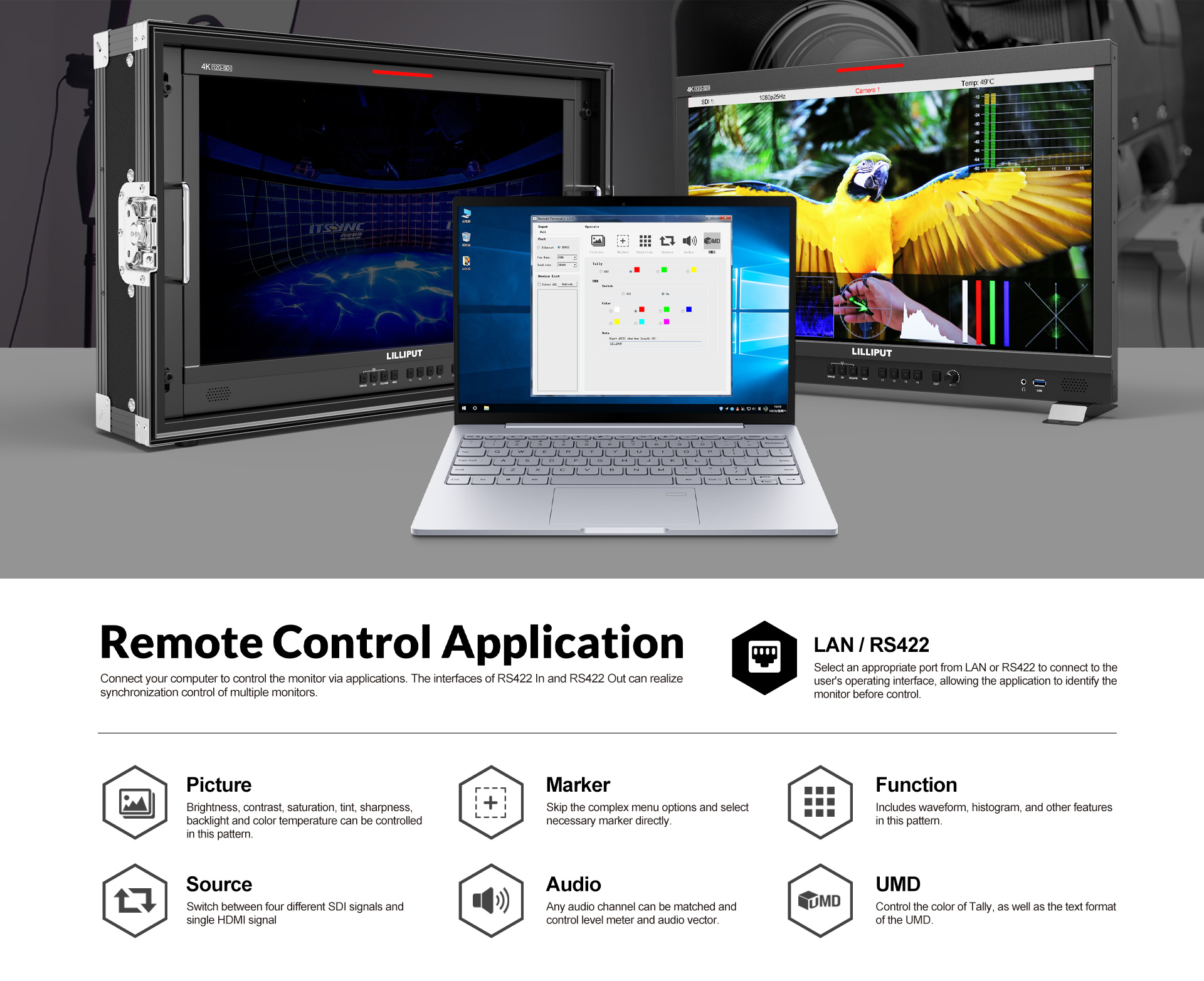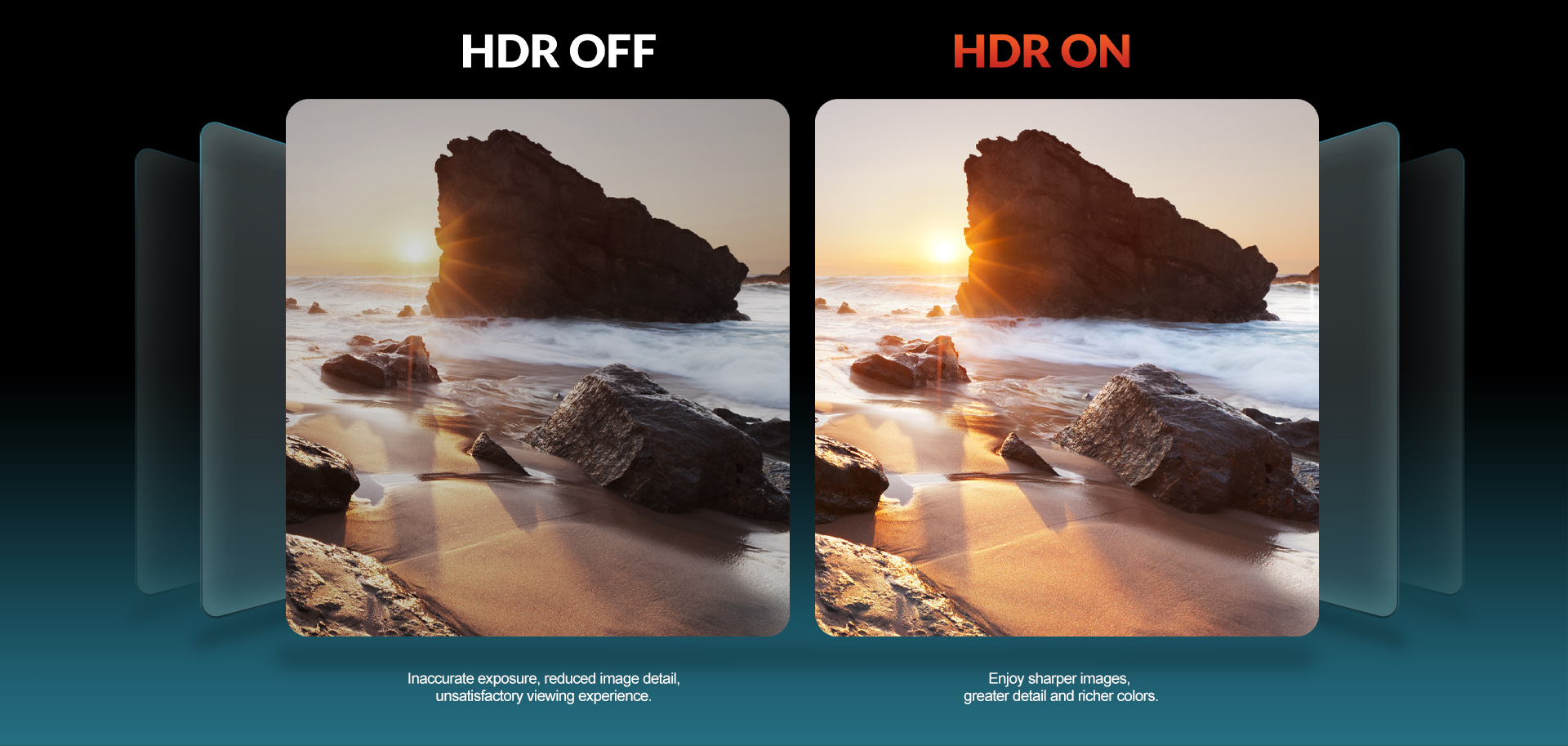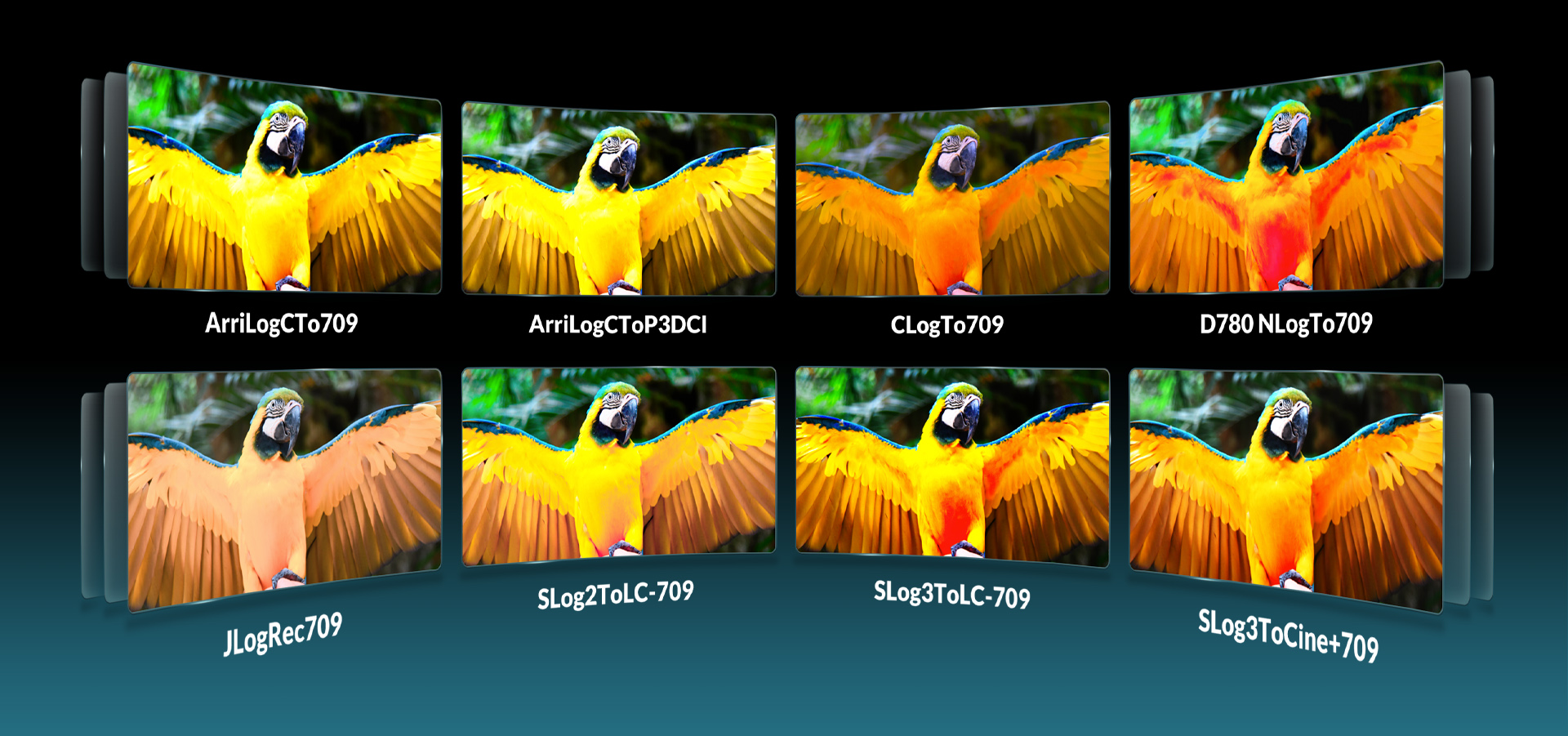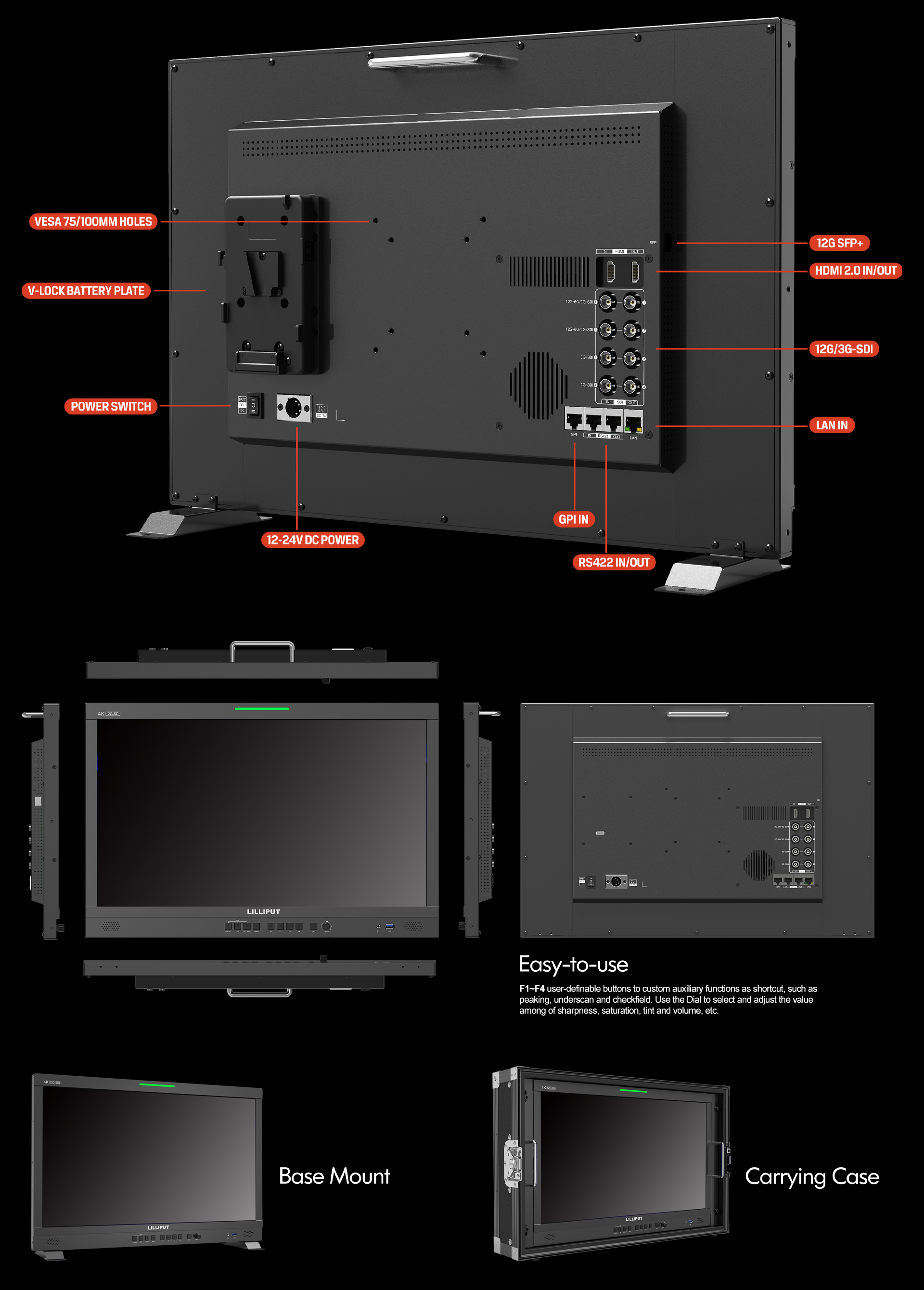 Specification:
SPLAY
Panel
23.8″
Physical Resolution
3840*2160
Aspect Ratio
16:9
Brightness
300 cd/m²
Contrast
1000:1
Viewing Angle
178°/178°(H/V)
HDR
ST2084 300/1000/10000/HLG
Supported Log Formats
SLog2 / SLog3 / CLog / NLog / ArriLog / JLog or User…
Look up Table(LUT)support
3D LUT (.cube format)
Technology
Calibration to Rec.709 with optional calibration unit
VIDEO INPUT
SDI
2×12G, 2×3G (Supported 4K-SDI Formats Single/Dual/Quad Link)
SFP
1×12G SFP+(Fiber module for optional)
HDMI
1×HDMI 2.0
VIDEO LOOP OUTPUT
SDI
2×12G, 2×3G (Supported 4K-SDI Formats Single/Dual/Quad Link)
HDMI
1×HDMI 2.0
SUPPORTED FORMATS
SDI
2160p 24/25/30/50/60, 1080p 24/25/30/50/60, 1080pSF 24/25/30, 1080i 50/60, 720p 50/60…
SFP
2160p 24/25/30/50/60, 1080p 24/25/30/50/60, 1080pSF 24/25/30, 1080i 50/60, 720p 50/60…
HDMI
2160p 24/25/30/50/60, 1080p 24/25/30/50/60, 1080i 50/60, 720p 50/60…
AUDIO IN/OUT
(48kHz PCM AUDIO)
SDI
16ch 48kHz 24-bit
HDMI
8ch 24-bit
Ear Jack
3.5mm
Built-in Speakers
2
REMOTE CONTROL
RS422
In/out
GPI
1
LAN
1
POWER
Input Voltage
DC 12-24V
Power Consumption
≤65W (15V)
Compatible Batteries
V-Lock or Anton Bauer Mount
Input Voltage(battery)
14.8V nominal
ENVIRONMENT
Operating Temperature
0℃~40℃
Storage Temperature
-20℃~60℃
OTHER
Dimension(LWD)
567mm × 376.4mm × 45.7mm
Weight
7.4kg
Product Image